Ask your questions, we are always here for you!
 
Customer service

If you have any questions regarding our products or your order, please do not hesitate to contact us. We are available through e-mail or by telephone. We leave you to decide on your preffered contact method. Moreover, you can e-mail us your telephone number and we will call you back as soon as possible. This is the type of the service we provide, and we are proud of it. You can reach us at +31 20 2101 561 on week days from 10 A.M. to 6 P.M. Outside the office hours you can e-mail us. We will respond the next working day. If you prefer e-mail, below you can find our contact form.


Not satisfied? Call us!
If you are not satisfied with your products or the service we provided you can always call us. We will try to solve the issue as quickly as possible and as best as we can in order to meet your demands. We are also part of the Webshop quality watch. If you feel that we acted in an inadequate way, you can always call them, because they will serve as the middle man for your complaint. If this still does not satisfy you, you can further contact the dispute commission. We try to avoid this, so we will offer you the best possible experience. Service in general is a very important factor in business, but for us in particular, is the most important factor and we aim to deliver the best possible results.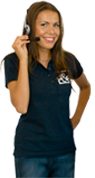 Heeft u nog vragen?
Onze klantenservice staat
iedere werkdag voor u klaar.
Bel: 020 4684055